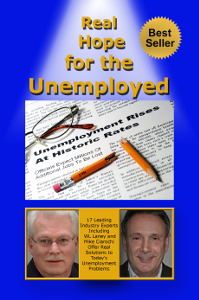 Click HERE to order your copy today!
World-Class Experts Unveil Powerful Solutions For The Unemployed – There are still nearly 4 million people classified as long-term unemployed. Millions of these people have looking for work much longer than the 27 weeks it takes to join this group; some have been looking for years. In the newly released bestseller, Real Hope for the Unemployed 17 leading industry experts offer real solutions to today's unemployment problems. This is not just a rehash of unemployment and underemployment issues; the book presents new thinking, new ideas, and new methods that individuals can apply today. In it you will find:
W Laney's personal story of courage and fortitude. WL is himself an inspiration to countless others. A self-made business success story, WL lost everything at age fifty-nine and got it all back and more by focusing on helping other people succeed.
How Michael Ciarochi was able to completely change his attitude overnight. More than two years after being laid off from a six-figure position Michael had nearly lost nearly everything, including his life due to health issues. He explained how recalling the Success Principles he learned years before set him back on track.
Rose Sheehan recovers from a near-fatal accident to discover her true calling. While driving home from work late one evening, Rose was hit by a drunk driver. During her recovery from this near-fatal accident, she lost everything – her job, her life savings and her home. Since then, she has created her own businessand discovered her true purpose in life, helping people and businesses recover from the after effects of our most recent economic disaster.
Real Hope for the Unemployed also features additional authors, visionaries and leaders, whose amazing stories of persistence and courage and powerful solutions will motivate readers to continue to strive for their personal goals in business and in life.
This book is an invaluable guide that will help people recognize their own power. Anyone who takes the time to truly absorb the messages in these stories and follow the advice within will learn exactly how they can overcome any challenge so they can live the life of their dreams!
When you order the Real Hope for the Unemployed through the below ($9.95 plus shipping) you will receive an autographed copy of the book directly from the author. If you don't have a PayPal account, you may pay securely from your credit or debit card using the same link.